Training and transmission are keystones at Entada Textile. Training means sharing and giving cultural elements to create free will and make professionals independent and curious. CSR systems and regulations are changing at a fast pace, operational risk management must be assimilated with new sustainable parameters and uncertainties standards. Traceability requirements ask for precise supplier integration, often with information on provenance, certifications and extra-financial or eco-design data that they do not have. It is not easy for sustainable fashion professionals to find their way around and for consumers to target good practices. To help you pass the milestone of commitment to sourcing and purchasing, we offer eco-design training with a systemic approach to sustainable textiles to brands and suppliers. Our training courses will be available in the catalog of the communication and professional training agency ALTAIR COMMUNICATION™ certified organization Qualiopi ™.
Our training is used to rework practices in order to transform them. In particular, our masterclass on the systemic approach to sustainable sourcing (CSR = social and environmental redistribution). Together we can identify business challenges to set the framework and to set the vision and the solutions and technology will follow. We believe that there is no perfect business model, that moving towards sobriety, being resource efficient, raising awareness of its impact by measuring it & working with stakeholders, are the key steps to becoming a company contributory, sustainable and circular. It is for this reason that we have written masterclasses and work with schools and textile professionals for training and collaborations in the form of workshops.
These training courses are aimed at brands, organizations and federations that support brands in a sector such as OSV, Eurosima or Fashion green hub, fashion and business schools, professional textile fairs that claim to bring innovative content to their visitors.
One of our passions is to use the framework and the data which are facts and not an opinion, to trigger a cultural change and gain productivity on the projects.
Because consumer expectations range from product to experience. So that creative teams, young designers, sourcing departments and product managers speak the same language, develop their textile expertise and move from the ideal of thought to practice adapted to their brand environment.
This method of "Sustainable sourcing training with no go between" is 100% digital and is designed on the subject of a simplified systemic approach. On the premise that there is no perfect sustainable sourcing the best way to be sustainable, according to the context, is to be resource efficient. It had been developed with a double doorway approach based on instinct and logic.
Created as a tool to make free will decisions about your CSR sourcing strategies (Redistribution, Social, Environment), this training is organized in 3 levels according to the knowledge base.
What is sustainable sourcing and where to start?
✅ Sourcing from KM 0 ➡️ Take it from the basics
How to deepen & to define a sustainable sourcing strategy?
✅ Sourcing action hero ➡️ Covers the subjects of sustainability, digital, supply chain
How to secure the upstream and downstream side of the supply chain?
✅ Sourcing safe Bet ➡️ Deep learning for innovation enthusiasts (early adopters)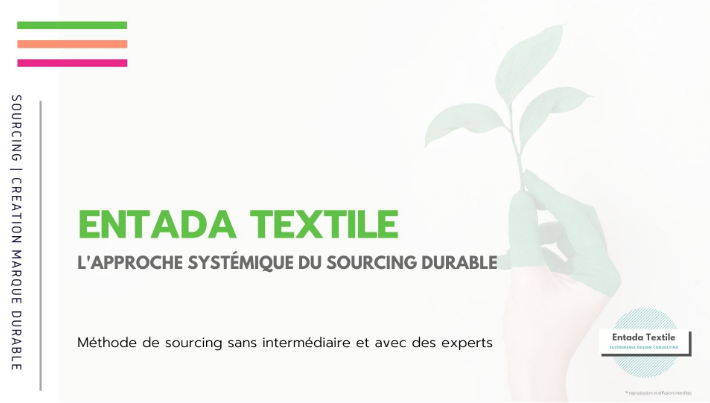 B 2 B workshops The circular economy fresco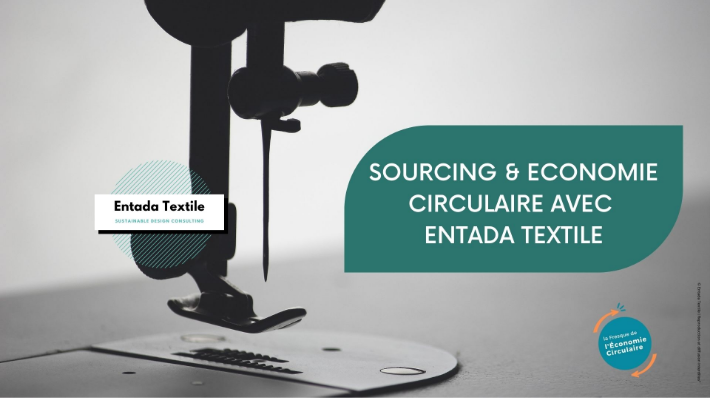 The circular economy fresco is an awareness workshop for a collective experience. This educational tool and association were created by Elsa Bortuzzo and Anne-France Mariacher. They were inspired by the fresco of the climate for its visual, playful, collective and educational side. The circular economy fresco is based on verified and verifiable scientific resources, notably shared by Ademe. As an animator trained to advise fresco to customers and textile specialists, at Entada textile we offer this workshop adapted to the textile sector. Thus we couple the collective intelligence workshop process with concrete examples and solutions available for our industry.
How to understand circularity? How to adapt it to the textile sector? What is circular sourcing? Can we say that circularity is common sense sourcing thinking?
Thanks to our eco-design training and sourcing or sustainable purchasing courses , we meet the teaching needs or team challenges while providing immediate operational sourcing solutions with our suppliers and partners.
The themes currently available are:
=> Ecodesign in sportswear, activewear & knitwear
=> The performance of circularity, labels and Agec law
=> Bi materiality at the dawn of CSRD (Fall 2023)
=> Sustainable sourcing for responsible purchasing (Fall 2023)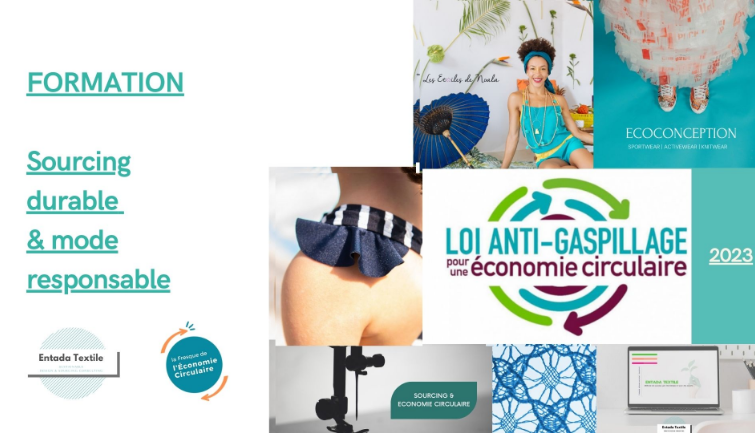 Would you like more information?